Do you wish your organization could see and prevent supply chain issues BEFORE they impact revenue?
Well Now You Can!
IBM Sterling and Syncrofy (by CoEnterprise) are working together to provide IBM customers market-leading supply chain visibility.
Syncrofy - A Powerful Supply Chain Visibility and Intelligence Platform
Syncrofy is a SaaS-based visibility platform that enhances existing IBM B2B solutions including SCBN, Gentran, B2Bi, and ITX. It empowers you to see the blind spots in your supply chain, streamline communication between internal teams and trading partners, and fill gaps in your ERP/B2B visibility.
With Syncrofy You Can:
Consolidate existing B2B data across the enterprise
Proactively monitor gaps in your supply chain to resolve issues before they occur and reduce revenue leakage
Improve on-time delivery to accelerate revenue
Manage ASN, OTIF and other compliance programs to reduce avoidable fines & fees
Learn why achieving supply chain visibility is so important, how gaps in execution can affect your bottom line, and how employing the right platform can help you save time and money.

Reduce
Complexity
Bring all EDI/B2B data into one view with an agnostic solution that provides visibility across existing EDI/B2B applications

Improve
Efficiency
Leverage search engine capability to find and view complex EDI data as easily readable business documents

More Informed Decision-Making
Drive the critical insights needed with powerful reporting and dashboards
Reduce
Cost
Instantly drive more IT bandwidth into your entire enterprise with customized notifications and alerts
Ready To Start Your Path Towards Complete Supply Chain Visibility?
Take control of your supply chain and improve profitabitlity TODAY!
Get in touch, and let's chat.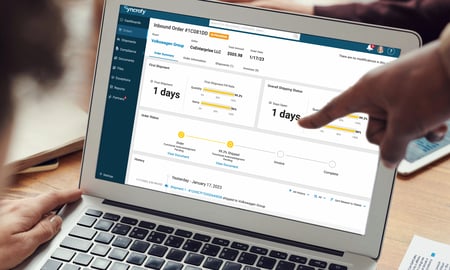 Trusted by World-Class Customers